Extensions verzorgen | Zo verzorg je je human hairextensions
Hairextensions raken steeds meer ingeburgerd, inmiddels draagt bijna 4 op de 10 vrouwen regelmatig hairextensions. Het is dan ook een prima oplossing tegen dunner wordend haar, iets waar steeds meer vrouwen mee te kampen hebben. Maar veel vrouwen die voor het eerst extensions hebben schrikken van het vele werk dat erbij komt kijken. Extensions verzorgen op een correcte manier is belangrijk voor de levensduur ervan en om klitten te voorkomen. Daarom lees je in deze gids alles wat je moet weten over de verzorging van extensions, inclusief een lijst van ingrediënten in shampoos die schadelijk zijn voor hairextensions.


Hairextensions wassen

Bij alle extensions geldt dat hoe minder vaak je ze wast, hoe langer ze mooi zullen blijven. Zo hoef je clip in extensions en flip in extensions maar te wassen telkens nadat je ze 6 tot 8 keer hebt gedragen. Om je clip in of flip in extensions te wassen dien je ze altijd eerst uit je haar te verwijderen. Laat vervolgens de wasbak of een teiltje vollopen met lauwwarm water, doe er wat shampoo bij en borstel je extensions met een speciale borstel voor extensions of met een kam met brede tanden.

Leg je extensions één voor één even in het water en ga er met je handen overheen. Volg daarbij de richting van de haren, zo raken ze niet in de knoop. Herhaal deze stap nog eens, knijp ze uit en neem ze allemaal samen en spoel ze nog eens uit met proper water om vervolgens conditioner of een haarmasker aan te brengen. Concentreer je vooral op de puntjes omdat die sneller droog worden en vermijd conditioner of producten met olie bovenaan bij de band en de clips.

Na het inwerken van het haarmasker ga je je extensions uitspoelen. Zorg dat je dit zorgvuldig doet want als niet alle restjes shampoo of masker verwijderd zijn zullen je extensions sneller vuil worden en ook zo aanvoelen. Knijp ze nu goed uit en kam ze eventueel even door met een kam met brede tanden. Tot slot breng je nog een beetje serum of olie aan alvorens ze al liggend op een handdoek te laten drogen.

Met permanente extensions was je uiteraard je haar samen met je extensions. Omdat deze extensions altijd op één of andere manier aan je eigen haar vastgemaakt zijn moet het wassen altijd met aanpaste producten gebeuren. Het gebruik van de verkeerde producten kan ervoor zorgen dat je extensions loskomen. Om de levensduur van je wax, microring, tape of weave extensions zo lang mogelijk te houden kun je ook beter niet vaker dan één keer per week je haar wassen.

Om knopen en klitten te vermijden kun je beter niet je haar ondersteboven wassen. Ga onder de douche staan en gebruik niet teveel shampoo. Spoel alle shampoorestjes goed weg en gebruik vervolgens conditioner enkel in de puntjes. Als er conditioner bij de bondjes, tape of microrings komt kunnen je extensions uit je haar glijden. Het gebruik van olie bij de bondjes en te hard trekken tijdens het borstelen zijn de voornaamste oorzaak van het loslaten van extensions.

Na het wassen moet je altijd goed je haar droogföhnen. Doe je dat niet dan blijven je extensions urenlang nat en zullen ze na verloop van tijd los gaan komen. Als je je haar met een stijltang of krultang in model brengt zorg er dan altijd voor dat je niet te dicht in de buurt van de waxjes of tapes komt want als de lijm smelt zullen je extensions loskomen. Gebruik vooraf een product om je haar tegen de warmte te beschermen, vermijd ook hier weer de aanzet van je haar.
Welke shampoo en conditioner mag je niet gebruiken voor extensions?
Gebruik geen reinigende shampoo voor extensions, deze is te ruw voor de kwetsbare haren. Reinigende shampoos hebben meestal clarifying, purifying of deep cleansing in de naam. Veel andere shampoos bevatten eveneens agressieve reinigers, zelfs bij de meeste babyshampoos is dat helaas het geval. Daarnaast kun je beter ook volumeshampoos vermijden. Deze bevatten meestal verdikkingsmiddelen (zouten) die het haar droger maken.

Het beste kies je voor een shampoo met natuurlijke ingrediënten. Controleer zeker de ingrediëntenlijst want het label organisch of natuurlijk betekent meestal niet dat er geen schadelijke stoffen en agressieve reinigers in de shampoo zitten.

Vermijd sowieso de volgende ingrediënten:
Sodium Lauryl Sulfate (SLS) - agressieve reiniger en schuimvormer

Sodium Laureth Sulfate (SLES) - agressieve reiniger en schuimvormer

Ammonium Lauryl Sulfate (ALS) – agressieve reiniger en schuimvormer

Sodium Chloride – zouten die meestal in volumeshampoos gebruikt worden

Polyethyleenglycol (PEG) – een agressieve ontvetter die ook in ovenreinigers zit
Ook alcohol is een veelgebruikt ingrediënt in haarverzorgingsproducten, het zorgt ervoor dat je haar sneller droogt doordat het water laat verdampen maar kan je haar (en je extensions) dus ook uitdrogen en pluizig maken. Staat één van deze stoffen binnen de eerste 4 plaatsen in de ingrediëntenlijst dan kun je het product beter vermijden:
Ethanol alcohol

Ethyl alcohol

Propanol alcohol

Alcohol denat

Isopropyl alcohol

Isopropanol alcohol

Benzyl alcohol
Bovenstaande ingrediënten maken van je dure extensions in geen tijd een droog bosje stro.

Er zijn echter ook goede soorten alcohol die je haar niet uitdrogen maar juist een beschermende werking hebben, dat zijn Lauryl alcohol, Cetyl alcohol, Myristyl alcohol, Stearyl alcohol, Cetearyl alcohol en Behenyl alcohol.

Maar wat met parabenen? Parabenen zijn bewaarmiddelen die in cosmetica en haarverzorgingsproducten gebruikt worden en in verband gebracht worden met verschillende soorten kanker. Ze staan op de ingrediëntenlijst vermeld als methylparabeen, ethylparabeen, propylparabeen, butylparabeen en isobutylparabeen. Op zich zijn ze niet schadelijk voor hairextensions maar de vraag is of je dergelijke producten wel wil gebruiken.
Mag je zwemmen met extensions?

Nee, maar laat ons eerlijk zijn: in de zomer wil je gewoon lekker met je hoofd onder water in de zee of in het zwembad kunnen plonzen. De reden waarom je dat beter niet doet is dat zowel chloorwater als zeewater een nachtmerrie zijn voor hairextensions. Zeewater bevat veel zout, je kon eerder al lezen dat je extensions daar enorm droog van worden. Chloorwater droogt ook uit maar heeft daarnaast de eigenschap om blond haar een groenige schijn te geven.

Met clip in of flip in extensions is het makkelijk, die haal je er gewoon uit voor het zwemmen. Besluit je toch te gaan zwemmen met clip in extensions dan zijn er net zoals bij permanente extensions een aantal dingen die je kan doen om de schade te beperken:
Draag oude clip ins of zet clips aan je oude weave. Wil je graag clip in extensions dragen op vakantie, waarom dan geen oude extensions in plaats van je mooie, nieuwe glanzende haar?

Doe je haar in een vlecht voor het zwemmen, zo vermijd je dat je extensions kunnen gaan klitten.

Breng eerst leave in conditioner aan, maak dan je haar nat met gewoon water en ga dan pas in het zwembad. Je haar is als een spons en als die al verzadigd is met een mix van leave in conditioner en schoon water zal het veel minder chloor opnemen.
Bij wax extensions is het heel belangrijk dat de bondjes niet urenlang nat blijven anders zullen ze loskomen. Zorg dat je na het zwemmen zo snel mogelijk de bondjes goed droogt met een föhn, de rest van je haar kun je desnoods aan de lucht laten drogen.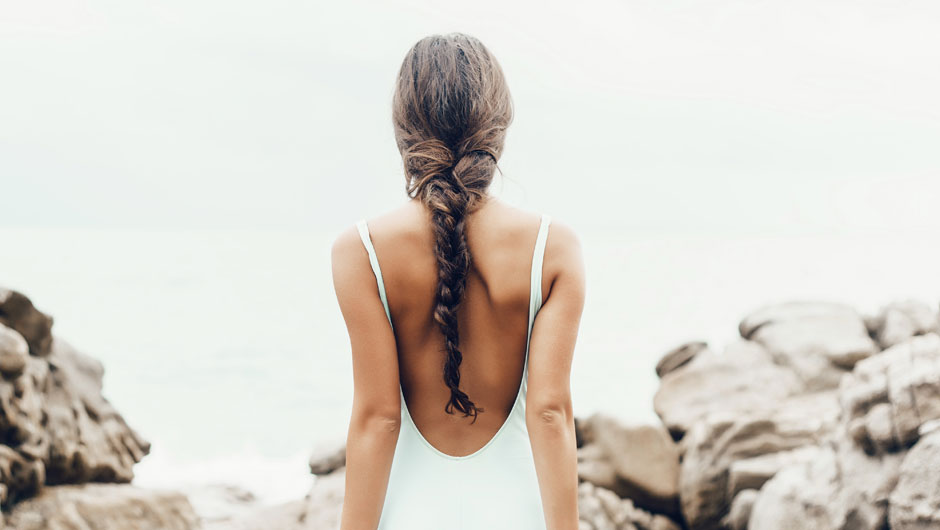 Hoe vaak moet je je extensions borstelen?

Eén van de belangrijkste dingen die ervoor zorgen dat je extensions lang mooi blijven is het regelmatig borstelen ervan. Net zoals je eigen haar raden we aan om extensions 2x per dag goed door te borstelen: 's morgens en 's avonds voor het slapengaan. Wax en microring extensions moet je elke ochtend eerst goed losmaken, dat wil zeggen dat je met je vingers de bondjes of de ringen die in elkaar geknoopt zijn weer los gaat maken alvorens je haar te borstelen.

Clip in en flip in extensions kun je beter borstelen voor en na het dragen en net zoals bij permanente extensions begin je daarbij onderaan terwijl je ze bovenaan vasthoudt. Zo vermijd je dat er teveel haren losgetrokken worden.

Gebruik nooit een gewone borstel voor je extensions, deze trekt te hard aan het haar. Met een tangle teezer kun je zowel je extensions als je eigen haar borstelen en voor extensions bestaan er ook speciale borstels.

Hoe slaap je met hairextensions?

Met clip in extensions kun je beter niet slapen. De clipjes zul je zeker voelen als je erop ligt en het handige aan clip in extensions is juist dat ze tijdelijk zijn en je ze dus makkelijk kan verwijderen om te slapen en te douchen.

Met permanente extensions kun je voor het slapengaan het beste je haar vastmaken in een vlecht of staart. Slaap je met los haar dan krijg je gegarandeerd klitten en zullen je extensions door de wrijving sneller hun glans verliezen en er dof en mat uit gaan zien.

Over wrijving gesproken, een katoenen kussensloop werkt als velcro op je haar. Wil je dus je extensions én je eigen haar gezond houden dan kun je misschien beter een satijnen of zijden kussensloop overwegen. Ben je vegan en gebruik je dus geen dierlijke producten zoals zijde overweeg dan een cupro kussensloop. De kwaliteit van deze stof komt erg in de buurt van echte zijde.

Extensions hydrateren

Doordat hairextensions, in tegenstelling tot ons eigen haar, niet vanuit de haarwortel gevoed worden zullen ze sneller droog en dof worden. Er bestaan allerlei producten die je extensions nieuw leven kunnen inblazen en ze terug glanzend en gezond kunnen maken, denk aan producten met keratine of deep conditioners.

Ook met natuurlijke ingrediënten kun je je extensions hydrateren als ze droog geworden zijn. Bepaalde oliën kunnen diep in het haar doordringen en maken het haar weer zacht en glanzend. Denk daarbij aan palmpitolie, zonnebloemolie en babassu-olie. Andere oliën zoals bijvoorbeeld jojoba-olie en amandelolie dringen niet in het haar maar leggen wel een beschermend laagje zodat het aanwezige vocht langer in het haar blijft.

Doordat sommige oliën tegen hoge temperaturen bestand zijn kun je ze ook prima gebruiken als heat protectant. Oliën die temperaturen van meer dan 200°C kunnen verdragen zijn onder andere zonnebloemolie, avocado-olie en extra vierge olijfolie. Het nadeel van olie is dat het wel je haar zwaarder maakt. Je kan het dus wel prima gebruiken bij clip in of flip in extensions maar bij permanente extensions komt de olie ook in je eigen haar en daar wordt het zwaar en sluik van.

Je weet nu perfect hoe je je extensions moet verzorgen. Als je al deze richtlijnen zoveel mogelijk naleeft is een lange levensduur van je extensions verzekerd. Dat betekent dat je zowel tape, weave als microring extensions meerdere keren zou moeten kunnen opnieuw laten plaatsen en clip in en flip in extensions minstens een jaar regelmatig zou moeten kunnen dragen, op voorwaarde dat je kwalitatieve extensions hebt.

Nog even de belangrijkste do's en dont's op een rijtje.

Wel doen:
Vlecht je haar voor het slapengaan. Op die manier voorkom je dat je extensions gaan klitten en hou je ze langer mooi. Wil je nog beter zorgen voor je haar, slaap dan op een zijden kussensloop

Gebruik altijd een conditioner na het wassen maar vermijd daarbij de bondjes, de tapes of de bandjes van je weave of clip ins

Behandel je extensions zoals je eigen haar, borstel 2x per dag en probeer niet vaker dan 1x per week je haar te wassen
Niet doen:
Als het even kan, ga dan niet zwemmen met je extensions. Doe je dat wel, draag dan altijd je haar in een vlecht en maak de bondjes zo snel mogelijk droog na het zwemmen

Gebruik geen producten met sulfaten of met uitdrogende vormen van alcohol

Ga nooit met nat haar slapen. Als de bondjes urenlang nat blijven kunnen je extensions loskomen
Heb je verder nog vragen over de verzorging van je extensions of twijfel je of een bepaald haarverzorgingsproduct geschikt is voor extensions? Aarzel dan niet om contact op te nemen met Bianca via info@clipextensions.be, instagram of facebook.